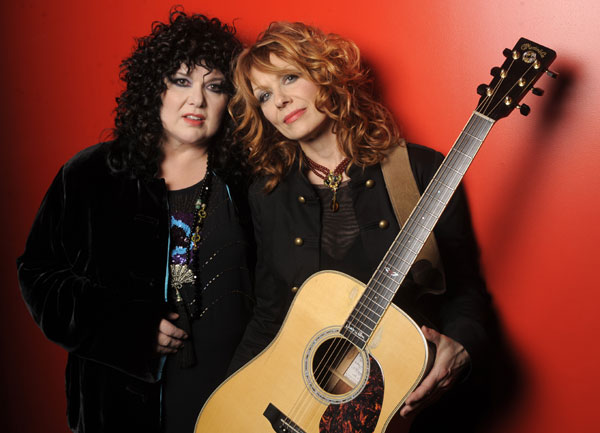 As purveyors of '70s arena rock, sisters Ann and Nancy Wilson of Heart found few other women in the genre.
They charted big hits, several of which are rock classics, and sold 35 million albums worldwide. That's roughly a million for each year the two have been recording. On Friday, they headline Portsmouth's nTelos Pavilion.
As Heart got established, it certainly helped that the camera loved the Wilsons' faces. Ann, the brunette, and Nancy, the blonde, smoldered on the cover of their 1976 debut, "Dreamboat Annie," on which the two were shown back to back, bare-shouldered, Ann's lips parted. On "Little Queen," released the next year and featuring the hard-rock anthem "Barracuda," the Wilson sisters were resplendent in medieval get-ups - fully covered, but still sensual.
The pair later appeared on the cover of Rolling Stone with come-hither stares, heavy makeup and bare shoulders. Selling sex and sensuality during the days of disco was more suggestive, perhaps even downright innocuous, compared with today's pornographic standards.
But the bottom line is Heart had to push the sex factor way up front to get their Led Zeppelin-influenced sound to the mainstream. That was still the case during their power ballad-fueled comeback in the mid-'80s, when Ann's weight gain threatened to derail the band's success.
Now that the Wilson sisters are close to 60 and have been formally recognized as trailblazers for women in hard rock, the emphasis has shifted from their sex appeal. They're probably relieved about that. "Red Velvet Car," Heart's first studio release in six years, is due out Aug. 31. On it, the Wilson sisters return to the driving hard rock of their heyday, when perhaps some critics were too distracted by their sexiness to appreciate the depth of their talent. The album cover does not picture the sisters.
Ann still possesses one of the most powerful sets of pipes in rock, and Nancy's skills on an assortment of string instruments are still impressive. No song on the album has the immediacy of "Barracuda" or the gloss of "These Dreams." But Heart still plays with, well, heart and plenty of energy.
"Red Velvet Car," to be released by Sony's Legacy label, boasts an evolved sound that doesn't pander to the iPod generation. The women of Heart have strong stories to tell through the music.
And they still don't look too bad doing it.
Source